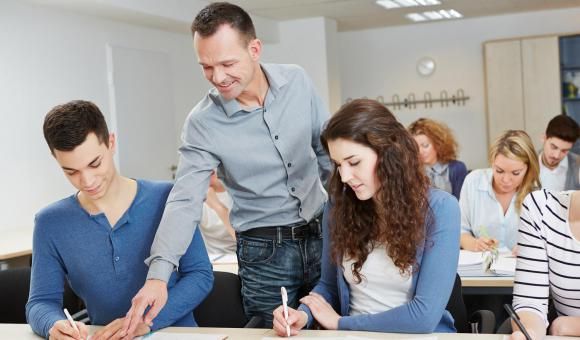 Education costs
Education is compulsory from the age of 6 through to the age of 18 and is free, although the parents are responsible for paying certain expenses.
Access to higher education is often influenced by the enrolment costs although these are restricted within scales of charges.
Study grants may in certain cases be awarded to students in difficult circumstances; grants can be awarded for both secondary and higher education.
Basic education
Basic education includes nursery school education and primary education.
Nursery school education is aimed at children aged between two and half and six. It is not compulsory but it is highly recommended.
Primary education is compulsory for children between the ages of six and 12. Finding a primary school or nursery school
Certain schools also give their lessons in a language other than French; this is known as linguistic immersion.
View the list of nursery schools and primary schools which practise immersion
Secondary education
Secondary education is aimed at students aged 12 to 18 and is compulsory
From the first year of secondary education, students can choose between English, Dutch and German as their first foreign language. Certain secondary schools also teach in a language other than French. View the list of secondary schools which practise linguistic immersion
Specialised education
In parallel with general education, specialised education will be arranged from nursery school education through to secondary education for children with learning difficulties or with a handicap which requires a modified environment.
You will find more information about the different types of education on the state education in Wallonia-Brussels portal.
International schools
Wallonia has several international schools in its territory.
Bogaerts International School - Waterloo
Ecole internationale Le Verseau – ELCE – Bierges and Gosselies
Ecole internationale du Shape – Mons
Scandinavian School of Brussels - Waterloo
St. John's International School - Waterloo
The British School of Brussels
The European Montessori School - Waterloo
Very close by, Brussels has four European schools, in Uccle, Woluwe, Ixelles, and Laeken as well as numerous other international schools including the BEPS International School, the British International School of Brussels and the International School of Brussels.
Further education
Wallonia's universities, university colleges and art academies offer a diversified and accessible range of study programs.
You will find all the useful information you need about further education Wallonia in the Studying section of this portal or at http://www.studyinbelgium.be/en.